Fair Auctions Support Youth
Each year GCFFY hosts the fair's Still Exhibit Auction and Livestock Auction at its fair. Both provide opportunities for the community to bid on projects shown at the fair. This year the fair fair's Still Exhibit Auction will begin at 4:30 p.m. on Sunday, July 28 and the Livestock Sale will begin on Friday, August 1 at 11:00 a.m. Both sales are in the fair's Covered Arena. Click her for Sale Bills and more information.
Plan Your GCFFY Adventure
The best week of the year is fair week!!! Stop on out to Gratiot County Fair for Youth from July 27 through August 3 for lots of animal encounters, exciting carnival rides and games, shows and make some incredible memories with your family. Don't forget the to get your fill of elephant ears, sausages, candy apples, cotton candy, hand dipped ice cream, lemonade and all the fair food you can image on your visit. Click here for all your fair information so you can plan your mid-summer family adventure at Gratiot County Fair for Youth.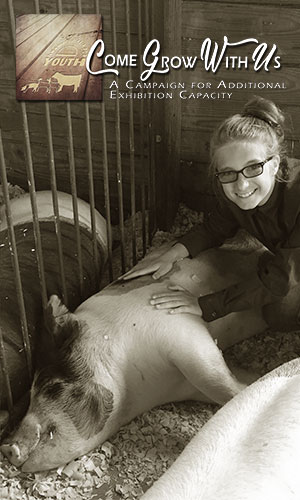 What could be more fun than riding a donkey at #gcffy?  Nothing!!! So put together a team of four and sign up for the 2019 Consumers Energy Donkey Bash on Monday, July 29 at 6:30 p.m. in the fair's horse arena.  Registrations are first come first filled until all ten teams have been completed so hurry up and grab your @$... er… donkey and get signed up today.  Registration forms and more information are available by clicking here.
New Barn Nears Completion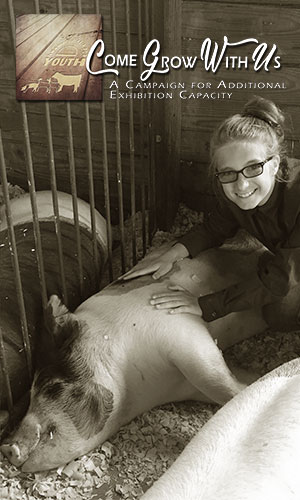 The fair's Come Grow With Us Campaign is nearing completion.  The barn will be ready for fair projects soon and it will transform how the fair is able to respond to the needs determined by the number of animal entries received.  The building is up, the electrical is almost completed, and the final concrete is scheduled to be poured.  If you have not yet made your contribution to the campaign and still want your name listed as a pen donor or on the donor board, please submit your donation ASAP so your donation will be recognied inside the new barn as a donor to this exciting project.  Donations of any size will be greatly appreciated.  Money received will go towards reducing the amount of debt the fair will have to take on to complete this project.  Donations can be made by visiting the GCFFY online store at https://shopgcffy.square.site/ or by contacting bgardner@gcffy.org or 989-466-5071.
GCFFY HOSTS PULLORUM TESTING & RABBIT TATTOOING CLINIC
On Saturday, July 13 from 9:00 a.m. to 11:00 a.m. (CORRECTED TIME) fair volunteers will provide pullorum testing and rabbit tattooing for our fair exhibitors' project animals at no cost.  In order to show a poultry project bird (all birds eligible to show in GCFFY classes are considered poultry) the State of Michigan requires them to have a negative official test for Salmonella pullorum-typhoid within 90 days before the fair and as such MUST be tested negative before arriving at the fair.  Similarly any rabbit who exhibits at the fair MUST have a legible ear tattoo for identification.  The fair's poultry superintendent, Clay Mills and rabbit superintendent, Jeniffer Kelly will be on hand to do this for our exhibitors.  Furthermore if there are any exhibitors who want help with RABBIT showmanship, Jeniffer will have volunteers to help guide fair exhibitors through the showmanship process.

Families who have POULTRY who cannot attend the July 13 date have one other time to test their birds on Sunday, July 21 from 6:00 p.m. to 8:00 p.m. in the fair's Small Animal Barn.  Those who cannot make either day can arrange a farm visit (at a cost) by contacting Clay Mills at 989-763-1973.
Fair Entry Forms Due Monday, June 17
What one thing does every GCFFY Exhibitor have in common? They will have all completed their Fair Entry Form submitted to the fair office.  Forms are online this year and can be found at https://fs6.formsite.com/GCFFY/qsdx84eacf/index.html.  This form will ask for information about the exhibitor and will have places exhibitors can fill out the classes they want to take at the fair.  Before entering information, create a list of the classes to be entered and be sure to keep track of the Class Number, Class Section and Class Description.  You do NOT need to enter department and divisions this year.  The class information for this year is found in our fair books which can be downloaded at http://gcffy.org/fair_book.html or by picking up a copy at the GCFFY Fair Office or the MSU Extension (4-H) office just south of the Alma Post Office. 


Who needs to complete a Fair Entry Form?
Every exhibitor who is exhibiting in the fair MUST complete a fair entry form except those who are ONLY horse exhibitors and those who are ONLY archery exhibitors.  Animal exhibitors who have already registered their market, breeding stock and project animals must still submit the fair entry form to register for the classes to be completed for that project.  Market exhibitors must register for their market class, showmanship and record book (yes record books ARE required this year).  They may also sign up for the skills test and lab, livestock judging contest and skillathon. 
What if I forgot to register for a class and I already submitted my Fair Entry Form?
If you forgot to add a still exhibit and you have a fair entry form already submitted, you can bring the exhibit to the show with no penalty.  You will need to create your own exhibit card which can be downloaded at http://www.gcffy.org/parts/blank_entry_tags.pdf. If you forgot to register an animal project which has either been preregistered or does not require a preregistration, you must contact the fair office by email with the Class Number, Class Section and Class Description and will be added only if possible though entries are not guaranteed. 
Fair Books Online
Official 2019 GCFFY Fair Books are online at gcffy.org.  Books can be downloaded anytime and will be available in print on Tuesday at both the fair office and the MSU Extension (4-H) Office in Alma.  Be sure to get your copy today.  Fair Entry Forms will be completed online this year.  Exhibitors will need to enter just the class number and the section (as division and department will not be asked for this year) on the online form.  The deadline to register for classes has been extended to Monday, June 17 at 11:59 p.m.
Even if you have registered your animals online, you still MUST complete a fair entry form (horses not included.).  You will need to register for your market or breed classes, showmanship, record book, skills test and skillathon on this form.


Gratiot County Community Foundation awards GCFFY Memorial Scholarship

Last month, Christy Sopocy and Lyndsi Wolfe were awarded a scholarship from the Gratiot County Community Foundation's GCFFY Memorial Scholarship Endowed Fund.  GCFFY Board President, Kent Humm presented Sopocy and Wolfe their scholarship awards as the Foundation's annual scholarship gala.  With these two recipients, the memorial scholarship's fund has now awarded twelve scholarships since its inception in 2013.  Recipients are awarded based on their long term diverse participation at the fair, commitment to community service and their leadership experiences.  Anyone interested in learning more or applying for a scholarship next winter or making a donation to help build this fund can find information at www.gratiotfoundation.org.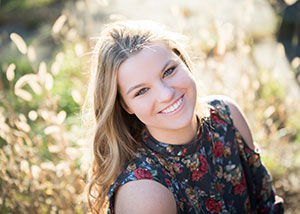 Christy Sopocy will be using the GCFFY Memorial Scholarship to help pay for attending Michigan State University next fall.  Christy graduated from Ovid-Elsie High School a few short weeks ago. She is a member of the Busy Green Clovers 4-H Club and has been exhibiting at the fair since she was a Cloverbud.  Christy can often be found working with her pigs at the fair and has earned the top award in woodworking for her mastery of the project area.  She also has exhibited handcrafted dresses and jams.  Christy has taken many of her Gold Ribbon GCFFY exhibits to the Michigan State Fair where she has earned best of show for woodworking and scholarships.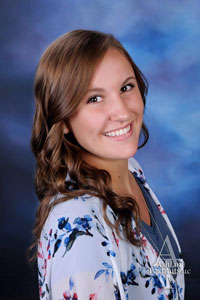 Lyndsi Wolfe a recent graduate of Fulton High School is the other scholarship recipient.  Lyndsi will be attending Saginaw Valley State University in the fall to study Rehabilitation Medicine with a goal to become an Occupational Therapist.  Lyndsi is a member of the Somethin' Special 4-H Club where she has been active helping younger exhibitors at the club meetings and is a member of the Gratiot County 4-H Exchange Club where she will be helping to host the New Jersey 4-H members coming to Gratiot County this spring.  She remembers coming to the fair as her older brother showed and was excited to finally be able to bring a feeder calf as a Cloverbud.  Lyndsi has been a longtime exhibitor of beef at the fair and will be bringing a steer again this coming year.  Lyndsi has also participated in goats, crafts, fiber arts and foods at the fair.

Congratulations to Lyndsi and Christy on their accomplishments!  GCFFY wishes Christy, Lyndsi and all the 2019 graduates the very best on their future endeavors.
Fair Board Welcomes New Superintendents
The Gratiot County Fair for Youth Board of Directors filled two superintendent positions this spring.  Jeniffer Kelly will be the new Rabbit/Cavy Superintendent.  Jeniffer participates on the American Rabbit Breeders Association circuit where she specializes in raising and showing top quality English Angora rabbits.  Jeniffer has organized a rabbit hopping demonstration for any exhibitor who wants to participate at the fair on Thursday morning.  She is a great addition to our fair family.  Mary Redman will serve as the fair's new Dairy Superintendent.  Mary and her family are highly active participants in the dairy program and exhibit their cows at multiple shows.  Mary has served on the fair's board of directors and will have an easy transition into the role.  The fair welcomes these two exceptional volunteers to its superintendent family and appreciates the work Jeniffer, Mary and all of our superintendents do to make our animal departments run smoothly.

Maple Leaf Amusements are Coming Back to GCFFY

Gratiot County Fair for Youth and Maple Leaf Amusements will again team up to provide an exceptional midway experience during the week of the fair. Maple Leaf Amusements has a great assortment of rides which will include their Super Wheel, Himalaya, Sizzler, Crazy Surf and many others which will be returning. Along with the fun carnival Maple Leaf brings in exciting games and the most amazing fair food. Can't you just taste and smell those elephant ears, polish sausage, fresh squeezed lemonade and caramel apples? Don't forget to plan your visit to this family friendly fair midway.
 
Plan to Get Your GCFFY On With Pre-Sale Carnival Wrist Bands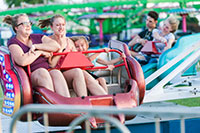 Again this year, GCFFY will be selling pre-sale carnival tickets at an amazingly great price. For just $10 you can purchase a ticket which can be redeemed for an unlimited ride daily wristband any day you choose that Maple Leaf is open during the fair. Tickets will be sold at the fair office during office hours. The weeks prior to the fair the fair office will be open Monday through Friday from 8 a.m. to 4:30 p.m. Additionally the fair office will be open until 7:00 p.m. on Wednesday, July 24. Furthermore the fair office will be open on Saturday, July 27 from 9:00 a.m. through 12:00 p.m. Stop by and see us to get your ride passes, parking permits and get ready to get your summer going.
Record Book Update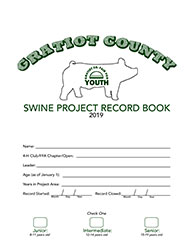 As reported earlier by GCFFY, anyone who participates with an animal project in the Market Livestock Sale must have a completed record book for every species they sell.  This year, the fair has updated the beef, dairy, feeder, beef, horse, sheep and swine books.  These books can be found at http://www.gcffy.org/record_books.html.  The goal is to overhaul the small animal books as well as update the questions in the large animal books next fall. 

A completed record book has financial records inside.  To get a head start it is important to record their expenses to later put into the project record books.   

In the fair book schedule it has a time to turn in the market financial sheet that exhibitors had to do last year.  This did not get out of the book even after a few proof reads but should have been.  These sheets are no longer required because the record books are now required.
Online Animal Registrations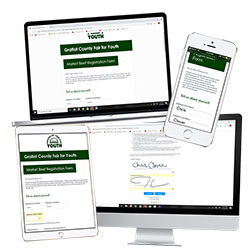 Online animal registrations are finally coming to Gratiot County Fair for Youth. The fair is working with FormSite to create online registrations to register animals this coming year.  Beef exhibitors will be the first group to pilot the new registration process and the link to market beef online registration is now live at http://www.gcffy.org/fair_forms.html. 

Before registering your market beef, feeder, goat, sheep and swine projects you will need to have the following:
Purchase an official 2019 GCFFY ear tag from either the fair office or our MSU Extension Office (4-H) partners.  The cost is $1.00 per tag except for swine who will receive an official swine ID tag which is provided at no cost from the Michigan Department of Agriculture and Rural Development.  Each animal you wish to register MUST have this official tag.
Tag your animals with a tagger which works with Allflex tags.  Exhibitors can register up to four animals when registering.  Each animal MUST be tagged.  When tagging animals it is highly recommended to have the ear tag facing on the outside of the animal for easy reading (and will show up easily on a photograph).  Each exhibitor must have one animal listed as their primary animal on their registration forms.  A primary animal listed for one family member may be listed as a back-up animal for another exhibitor, and the exhibitor is not required to exhibit their primary animal if they have a secondary animal registered.
Take pictures of your project animals.  Make sure your picture is a side view.  If the ear tag is not readable in this side view picture, snap another shot with the ear tag clearly visible.   The photo must show the ear tag hanging in the ear untouched.  You will need no more than two pictures to upload. 
Make sure the pictures you will be uploading are stored on the device or computer which will be used to register your animal for each animal. 
Write down your animal's RFID tag (for beef and feeder) or Scrapie ID (for sheep and goats) that goes along with each GCFFY tag number and have this accessible when registering online. 
Click on the above link when ready and click the link for the correct animal.  Since the Internet never sleeps, the forms will be due by 11:59 p.m. on the official due date.  Applications submitted after that due date will require a $10 per business day registration fee.
Follow the links and upload the photographs when prompted to upload them. 
After you submit your registration, a confirmation screen will come up and an email will be sent to the email address provided.  Keep these as the official confirmation of the registration.  If you have any problems with the registration from the fair, you will need to present this to guarantee your registration. 
The pilot of this process went smoothly and could be done simply on a phone as well as a laptop.  The fair encourages patience as we unroll this process.  If for some unforeseen reason there is a hiccup in the registration on the fair's end, accommodations may be made.  

A complete list of upcoming registration deadlines:


| | |
| --- | --- |
| Market Beef | Friday, February 15, 2019    |
| Market Feeder  | Monday, April 15, 2019    |
| Horse    | Wednesday, May 15, 2019 |
| Market Goat | Wednesday, May 15, 2019 |
| Market Sheep | Wednesday, May 15, 2019 |
| Market Swine | Wednesday, May 15, 2019 |
| Cloverbud Animal Declaration | Wednesday, May 15, 2019 |
| Non-Market Animal Declaration   | Wednesday, May 15, 2019 |
| Fair Entry Form | Extended to Monday, June 17, 2019 |
| Pocket Pet Declaration Form | Extended to Monday, June 17, 2019 |
Applications Sought for Dairy Superintendent
Gratiot County Fair for Youth is seeking qualified applicant to serve as the fair's volunteer dairy superintendent. Candidates should be organized, have basic knowledge of how a fair animal show runs, and most importantly interact well with our youth exhibitors, volunteers and parents.
The Dairy Superintendent will:
Serve on the fair's Large Livestock Committee as a voting member (a committee which usually meets twice per year) representing the dairy department
Work with the fair office to get ready for fair
Set-up and assign barns in space provided by board
Check-in dairy projects
Introduce themselves to dairy exhibitors
Set-up the dairy show and showmanship classes (by exhibitor age)
Lead any efforts to encourage buyers to participate in the dairy sale and ensure that all participants participating by proxy are properly registered and checked out from the sale
Prepare dairy exhibit for the sale
Prepare dairy exhibits for the showmanship sweepstakes
Work with exhibitors and volunteers to put away pens and clean-up barn(s) after the fair
Applications for either position are available at http://www.gcffy.org/parts/Superintendent_Application_2009.pdf and are due by Wednesday, April 10.  The official superintendent job description is at http://www.gcffy.org/parts/super_agreement_desc.pdf. Contact the fair office with any questions at bgardner@gcffy.org or (989) 466-5071.
Humm Awarded Youth Volunteer of the Year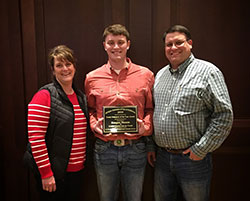 At the annual meeting of the Michigan Association of Fairs and Exhibitions, Keegan Humm was awarded their Youth Volunteer of the Year.  This award is designed to showcase the contributions made by youth volunteers throughout Michigan to benefit fairs.  For Gratiot County Fair for Youth, Keegan has taken on a leadership role in organizing the set-up of the fair's parking areas.  Keegan helped to plan, organize, set-up, take down and evaluate the parking areas since the fair changed to its new arrangement of parking.  Keegan is also very active helping in the sheep department where he assists with set-up, clean-up and teaching exhibitors showmanship.  Keegan also just completed his two year term as our fair's teen representative to the Board of Directors where he was an active participant in board meetings.  Gratiot County Fair for Youth thanks Keegan and all of our youth volunteers for helping to make their fair better.
Pups-R-Us Practice Schedule
To participate in the fair's Dog Show, exhibitors must be members of the Pups-R-Us 4-H Club and follow their training schedule. The club will have an Information Meeting (without dogs) at the Bill & Grace Vanderbeek Fair Office on Monday, March 11, 2019 at 6:00 p.m. to go over new rules, fill out necessary paperwork and to answer questions. Click here for more information and a schedule of practices.
Gratiot County Fair for Youth Elects New Board
The Gratiot County Fair for Youth membership elected its 2019 Board of Directors at its annual meeting held in early December.  Jake Cary, Kent Humm and Kipp Krenz were reelected for their second term and Jessica Truax was elected to her first term on the board.  Hayley Cary was appointed to a two year term on the board as a Teen Representative filling a vacancy created at the end of Keegan Humm's term completion.  GCFFY thanks Mary Redman and Keegan Humm who are leaving their position on the board for their dedicated service to the Board and the fair's exhibitors.

Later that night the board elected Kent Humm as its President, Jake Cary as its Vice President, Martha Stellow as the Treasurer and Becky Hirschman as Treasurer.  The complete list of board members is listed at http://www.gcffy.org/about_us.html.  For more information contact the fair office at 989-875-5292 or bgardner@gcffy.org.
New Superintendents Appointed
At the last Gratiot County Fair for Youth Board of Directors meeting, Shanna and Jared Smith were appointed as the fair's new swine superintendents.  Shanna and Jared served last year as the beef superintendents and Shanna serves on the fair's Board of Directors.  Previously, Shanna has served as the assistant swine superintendent.  Shanna grew up with the fair showing livestock and her family has raised and showed quality show swine and Jared works in the swine industry.  GCFFY is thankful to have the Smiths in this new role serving our swine exhibitors.

The Gratiot County Fair for Youth Board of Directors also appointed Olivia Waldron as the fair's Companion Animal Superintendent at their last meeting.  Like Shanna, Olivia grew up with the fair and continues to give back as an alumnus.  Olivia served last summer as the interim Companion Animal Superintendent where she did an exceptional job.  Olivia is also a recent graduate of Central Michigan University.  GCFFY looks forward to continued work with Olivia in this position.
GCFFY Appreciates Donors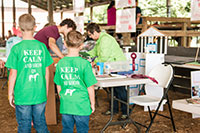 As the last fiscal year came to a close, GCFFY had 265 donors who helped the fair meet its funding equation for 2018.  With every donation the fair grows stronger and is better able to complete its mission of providing our community's youth an opportunity to showcase their accomplishments.  GCFFY is fiscally strong which helps us provide our exhibitors with an educational and memorable fair experience in safe, functional and well maintained fair facilities.  GCFFY appreciates every person who supports the fair through a donation of time or resources. Click here for a complete list of all 2018 fair donors.
---
Mark and Raychelle Story Step Back from Swine Superintendent Role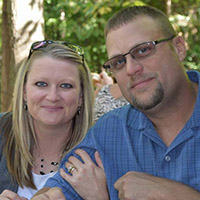 Mark and Raychelle Story have served the last four years as the fair's swine co-superintendents.  This year due to increased commitments at work for both they are stepping away from leading this large department.  During their tenure they have seen the swine project area numbers increase steadily forcing them to work hard to find a way to house animals without having enough pens.  Some accomplishments in their four years were working with Breckenridge Insurance Agency to purchase the swine gates in the arena.  Using these new pens has dramatically increased efficiency of the shows.  The Story team helped to create outdoor wash pens for the swine department to provide much needed inside pen space and has allowed more GCFFY exhibitors to wash their animals at one time.  Mark & Raychelle have also helped to create a plan to increase multi-purpose pen space at the fairgrounds to create more flexible housing on the fairgrounds.  "Mark and Raychelle are always helping our pig families," states GCFFY Fair Coordinator, Brian Gardner.  "They made sure every family had the information they needed and worked hard to ensure the swine show ran efficiently and fairly."  GCFFY thanks the Storys for their incredible service to the fair.
Mark & Jeanne Fidler Step Back As Rabbit Superintendents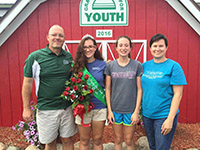 Since 2013, Brett & Jeanne Fidler's smiling faces have greeted exhibitors in the rabbit barn as they served as co-superintendents in the rabbit department.  Brett & Jeanne are stepping back away as the superintendents of the rabbit/cavy department this coming year.  During their time at the fair, Brett & Jeanne worked tirelessly to ensure exhibitors were well prepared and made sure the barn was set up and ready for exhibitors to check-in.  This past year, Brett and Jeanne helped to successfully integrate cavy projects into the rabbit department.  This move has helped GCFFY better align with American Rabbit Breeders Association standards which includes cavies.  "It was at the show where Jeanne and Brett excelled as superintendents," states Brian Gardner, GCFFY Fair Coordinator.  "Their enthusiasm for helping kids comforted parents and empowered exhibitors to do their very best."  GCFFY thanks the Fidlers for five great years showing rabbits.
---
Camping During Fair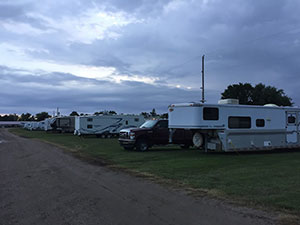 A common question of GCFFY exhibitor families is how can they get a camping spot on the fairgrounds for the fair.  The fair first re-offers campsites to families who have camped with us during the last fair.  These families have until mid-February to turn in their campsite registration paperwork (which is mailed out in mid-November).  The fair will move families who indicate they want to move based on the vacancies left from campers who do not renew and then will offer the open spots to new families from the campsite waiting list on a first-on, first-off basis.   

What is the "waiting list"?  It is a list of families who have contacted the fair office to let them know they are interested in getting a site.  Currently there are 57 families on the waiting list.  This is not as bad though as it seems. Many families who were offered a site for 2018 chose not to take the site for various reasons.  These families were able to stay on the list in case something changed for them in the future and statistically do not often take a site in the future.  If you want to add your name to this waiting list, email Brian Gardner at bgardner@gcffy.org with your name, address, best phone numbers to be reached (sometimes calls are made just before the fair starts so a cell phone is helpful) and your email address. Your name will be added in the order it is received.
---
Upcoming Fair Dates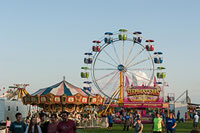 The fair has contracted dates with Maple Leaf Amusements through 2021.  Maple Leaf Amusements have been providing exceptional carnival rides, food and games to the GCFFY midway since 2014 and the fair looks forward to continuing our great partnership through at least the beginning of the next decade.  The dates through 2021 are:

Saturday, July 25 – Saturday, August 1, 2020
Saturday, July 31 – Saturday, August 7, 2021

Please update your calendars so you can plan your mid-summer adventure at the next three GCFFYs.
---
PQA No Longer Required to Exhibit Swine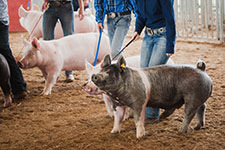 In May, the youth version of Pork Quality Assurance was no longer supported by the National Pork Board.  Pork Quality Assurance is a certification program to educate swine producers how to raise a quality meat product.  Historically, MSU Extension partnered with the Pork Board to provide the education of this program for youth participating in swine fair projects. The Pork Board eliminated this program when a new program, Youth for the Quality Care of Animals was created and covered all market animal projects.  While this new program is well designed, the program costs $12 per child to participate and MSU Extension at this time is not able to provide the program education meaning it is only web-based.  The fair decided since buyers are not getting additional money for reselling swine projects raised from "certified producers", that they would no longer require this certification of their exhibitors.  
---
Record Books for Exhibitors with Market Livestock (including Dairy) are Mandatory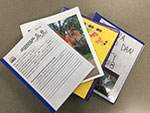 At the last GCFFY Board of Directors Meeting, the board approved requiring record books for all exhibitors who exhibit market animal projects.  This means any youth selling an animal at the fair's Livestock Animal or who is part of the fair's dairy project must fill out a current year record book.  Furthermore the fair's Market Record Keeping Sheet which was due on the last Saturday of fair will go away.  The fair will soon post the updated record books online for the fair's large animal projects and the details on how to turn the completed books.
---
All Large Animals (including Goats) Must Pre-Register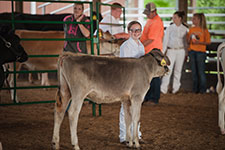 The fair is creating yet another form for youth exhibitors to complete.  Any exhibitor who plans to show breeding stock (non-market) beef, dairy, goat and sheep projects at the fair MUST preregister their fair animals.  This new form will be due on May 15 and will incur a late fee of $10 per business day up to 30 days in order to show at the fair.  Paperwork received after 30 days past the registration deadline will not be accepted and animals will not be able to show.  This will ensure large animals superintendents know how many animals to plan to have at the upcoming fair.  This is a change so make sure you let anyone showing these types of animals know so they can plan.  The new form can be downloaded by clicking here. 
---
Still Exhibit Sale Project Delivery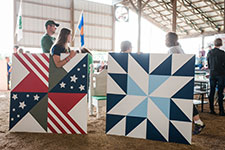 The past few years has seen a huge increase in not only the amount of non-food still exhibit projects sold but also in the quality.  GCFFY fair exhibitors have worked hard to master their craft to present some truly unique hand-crafted items for sale.  This past year there was some confusion on the release of items at the fair.  For the 2019 sale, exhibitors who will sell these non-food items will get a card when signing-up their exhibit sale project.  This card will have a place for the exhibitor to complete their phone number(s) and name and a part for the buyer to write their contact information and name.  The child will be required to give this card to the buyer after they sell so the buyer and the exhibitor have each other's contact information.  The card explains to the buyer it is the exhibitor's responsibility to deliver the project after the fair but most importantly will provide both with contact information.  The fair will also be encouraging still exhibit sellers to place a "Thank You Buyer" card on the project as well identifying the buyer of the item.  The fair hopes this will help all sale projects to be delivered to the right place after the fair.
---
Still Exhibit Release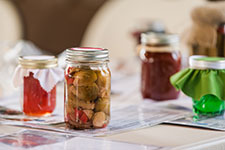 The Fair will be changing the Still Exhibit Release time in 2019.  The fair will be dismissing projects on the last Saturday of fair (Saturday, August 3, 2019) from 12:30 p.m. to 2:00 p.m.   The fair has seen many projects leave the fairgrounds early the past years which has created a difficult time for our clubs who have done Barn Security.  After 2:00 p.m., the barn will be closed until Sunday morning and will not be re-opened for project dismissal due to the large amount of visitors the fair has on Saturday afternoon.  The Still Exhibit Barn will not be open to visitors on the fair's last Saturday.  
---
Club/Chapter Agreement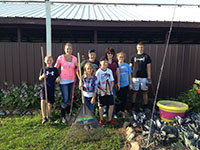 The fair has created an agreement between the fair and 4-H Clubs and FFA Chapters who participate in the fair.  The new form will ask club leaders to participate in things they are already doing to help the fair.  Club Leaders will agree to have their club perform their pre and post fair assigned clean-up duties for the fair.  Leaders will also agree to have their families (or arrange for volunteers) participate in being Still Exhibit Barn Ambassadors (Barn Security) during their appointed barn hours.  Club Leaders will agree to receive and distribute entry tags (etc.) delivered to them for their club.  Furthermore club leaders will be expected to set-up, decorate and staff its assigned Still Exhibit Project Display Area.  During Still Exhibit Judging the club will arrange for a volunteer to accept items being brought to the area for display.  Club and Chapter Leaders will have an opportunity to learn more about this at a pre-fair club workshop for leaders in April with a goal to distribute printed fair books at this time.  The fair will then agree to waive the fair's $25 per member fair entry fee for all club/chapter members.  In the past these were all previously waived for all 4-H and FFA members. 

The fair sincerely appreciates the help it receives from 4-H clubs, families, volunteers and staff and FFA chapters, members and staff.  The fair cannot run without this incredible support.
Fair Awards 2018 Appreciation Awards
Gratiot County Fair for Youth awards a personal and business Appreciation Award annually during its opening ceremony.  This year the fair awarded the personal award to the Cary Family.  The Cary's have been involved at this fair since its inception in 1950.  Four generations of the Cary family have given incredible amounts time, talent and resources to mold this fair into what the fair is today.  The current generation of the Cary family continue in the large footsteps left by "grandpa" Charlie Cary.  Today Charlie's wife, Neoma, and their family, Scott and Wendy, Matt, Jake and Shelley, Stacey and Todd, Landen, Madelyn, Dillon (Denman), Hayley and Ben all contribute in the amazing Cary tradition of helping the fair. 
The Business Award was awarded to MJC Electric, LLC.  Matt Campbell who owns and operates MJC Electric donated his time to help and resources to accomplish a large electrical project at the fairgrounds.
GCFFY has Updated its Address
GCFFY closed its post office box in fall of 2018.    Please update your files (including your financial software) so your mail will get to the fairgrounds without delay.  The address will now be:

701 S. Lincoln Ave.
Alma, MI 48801

Our phone number and email will remain the same at (989) 466-5071 and info@gcffy.org.
---
Download GCFFY Pictures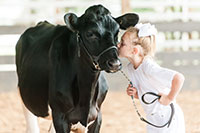 Captured by Christine Crumbaugh has some amazing photographs from the 2018 fair.  Many of them she posted are already on our fair's Facebook account.  There are many more on her website which were not on Facebook.  Chris has been sharing her gift of photography for the last few years and this year's pictures are nothing less than exceptional.  If you like one of them, you can download the full resolution file for $5 by clicking here.  Chris donates all of the money to GCFFY. A HUGE thank you for Chris for all she does to save so many memories and moments from the best week of the year.

Come Grow With Us Campaign
Gratiot County Fair for Youth is constructing a new 64' x 112' multipurpose livestock facility.  This new barn will replace the fair's old beef barns and provide additional capacity to house livestock animals during fair.  As part of this campaign, the fair has already secured funding and has purchased new livestock pens and a scale.  Additionally the building will be constructed tall enough to support storage of large camping units over the winter.

While the fair is well on its way to successfully funding this project from grants and philanthropic support, the fair still needs your help to complete the project's funding equation.  Various sizes and types of gifts are needed to complete the fundraising plan.  There are numerous naming opportunities and all gifts will be permanently recognized.

Gifts may be made in installments; however, we are asking donors to complete their gifts by October 31, 2018.  As GCFFY is a 501(c)(3) public charity, your gift may be tax deductible.  Click here for more information and to support this campaign.
New College Students Use GCFFY Memorial Scholarship to Offset Costs
In the spring of 2018, Chloe Brittain and Dylan Macha were awarded a scholarship from the Gratiot County Community Foundation's GCFFY Memorial Scholarship Endowed Fund.  With these two recipients, this fund has now awarded ten scholarships since its inception in 2013.  Recipients are awarded based on their long term diverse participation at the fair, commitment to community service and their leadership experiences.  Anyone interested in applying for a scholarship next winter can find information at www.gratiotfoundation.org.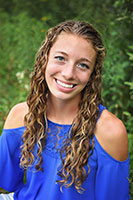 Chloe Brittain is in her first semester at Trine University in Angola, Indiana where she is taking classes as well as running on their cross country team.  Chloe has participated in numerous project areas at the fair and is a long-time member of the Circle B 4-H Club.  She has participated in the Gratiot County 4-H Teen Exchange Club.  The last two years Chloe has coordinated the Science Expo for the fair.  In this role, Chloe arranged the presenters who up an interactive science based table and worked with the fair to manage the logistics of having this event during the busy week.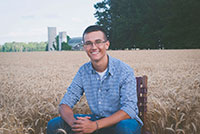 Dylan Macha has participated in the fair and 4-H long before he was old enough to start as a Clover Climber (which is now called Cloverbud).  Dylan has participated in a wide variety of both still exhibit and animal project areas.  Younger exhibitors look up to Dylan, and he is always willing to help these exhibitors learn more about the fair.  Dylan has participated in two rotations of the Gratiot County 4-H Teen Exchange Club and as a member of the Double C 4-H Club.  Dylan is furthering his education at Alma College where he is a recipient of their Community Engagement Scholarship.
Sale Information
The Gratiot County community stepped up again to support GCFFY exhibitors at the fair's livestock and still exhibit sales during the fair.  This year buyers spent $451,130 on exhibitors' project animals in the Livestock Sale and $114,525 at the fair's Still Exhibit Sale.  This year the fair sold 58,752 pounds of feeders, 49,849 pounds of beef, 29,686 pounds of swine, 9,813 bounds of sheep and 1,805 pounds of goats. 

Sale checks have been cut for all exhibitors; however, only checks for youth whose buyers have paid have been mailed.  As the remaining buyers pay for their animals, those exhibitors' checks will be released.

Fairgrounds Usage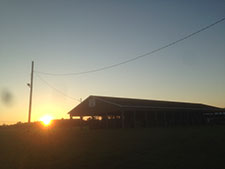 On the south side of Alma sits a beautiful facility which might be the perfect location to host your next event.  GCFFY's fairgrounds is the perfect location for a company retreat or picnic, a peaceful meeting, a family reunion or of course an animal event.  GCFFY has covered picnic areas; an all-weather, technology equipped conference room large barns and arenas.  Our online calendar has all of our events listed at www.gcffy.org found by clicking on Upcoming Events tab.  If you would like to see how GCFFY could serve your needs, contact Brian Gardner at the fair office at 989.466.5071 or bgardner@gcffy.org. 

Any 4-H club or FFA chapter who is looking for a meeting location or a place to hold your next club event is encouraged to consider the fairgrounds.  The cost for 4-H and FFA groups is often waived depending on the scope of the event and the amount of work it will take fair staff to clean-up after the event.  
Find us on Facebook

The Gratiot County Fair for Youth and the Gratiot County 4-H Programs both have active Facebook accounts.  These accounts are used to provide you with current information about their respective programs.  Everyone wants to be liked so please "like" them and make sure you are receiving current information.
If you have "liked" us on Facebook and we do not show up on your feed, go to our page and like a post or two or make a comment.  Active participation on a page will ensure you are receiving the information we are distributing.

The Gratiot County Fair for Youth's Facebook page is https://www.facebook.com/gcffy and the Gratiot County 4-H page is https://www.facebook.com/GratiotCounty4H.