When completing your forms, be sure to completely fill out your forms and have them signed.  RFID & Scranumbers will be closely looked at on all of our beef and feeder registration forms as will Scrapie Tag numbers for sheep & goats.   We will need to have one picture of the entire animal and a picture of the ear tag clearly visible for each animal. You can include more than one picture per form. Incomplete registration forms will NOT be accepted.
Form

Deadline

Market Beef Registration Forms

February 15, 2019

Market Feeder Registration Forms

April 15, 2019

Cloverbud Animal Declaration Form
May 15, 2019

Horse Registration Forms

May 15, 2019

Market Sheep Registration Forms

May 15, 2019

Market Swine Registration Forms

May 15, 2019

Market Goat Registration Forms
May 15, 2019
Non-Market Large Animal Declaration Form

May 15, 2019

June 10, 2019

- NOTE: Superintendent requries froms turned into GCFFY Fair Office on the Fairgrounds ONLY.

June 10, 2019 - NOTE: Superintendent requries froms turned into GCFFY Fair Office on the Fairgrounds ONLY.

Fair Entry Forms (Including Cloverbuds)

June 15, 2019 * since June 15 is a Saturday, Deadline extended to Monday, June 17.

Trailer Parking Registration Form

Form no longer used. Parking is first come-first served. The fair reserves the right to move any trailer. This does not include campers whoich must be regstered through the fair office and are offered through the fair's campsite waiting list.

Pocket Pet Registration Form

June 15, 2019 * since June 15 is a Saturday, Deadline extended to Monday, June 17.

Off Road Vehicle Registration Form

Price increases after July 20, 2019

Talent Show Registration Form

July 15, 2019

Still Exhibitor Absentee Form

Food Project Recipe Card - Fillable

- note - click on image of food item and an option to upload a picture will come up. Make sure to select the correct kind of file (usually JPEG).
Online Animal Registrations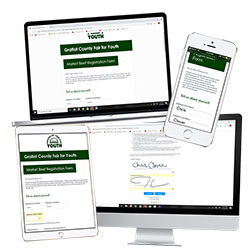 Online animal registrations are finally coming to Gratiot County Fair for Youth. The fair is working with FormSite to create online registrations to register animals this coming year.  Beef exhibitors will be the first group to pilot the new registration process and the link to market beef online registration is now live. 

Before registering your market beef, feeder, goat, sheep and swine projects you will need to have the following:
Purchase an official current year GCFFY ear tag from either the fair office or our MSU Extension Office (4-H) partners.  The cost is $1.00 per tag except for swine who will receive an official swine ID tag which is provided at no cost from the Michigan Department of Agriculture and Rural Development.  Each animal you wish to register MUST have this official tag.
Tag your animals with a tagger which works with Allflex tags.  Exhibitors can register up to four animals when registering.  Each animal MUST be tagged.  When tagging animals it is highly recommended to have the ear tag facing on the outside of the animal for easy reading (and will show up easily on a photograph).  Each exhibitor must have one animal listed as their primary animal on their registration forms.  A primary animal listed for one family member may be listed as a back-up animal for another exhibitor, and the exhibitor is not required to exhibit their primary animal if they have a secondary animal registered.
Take pictures of your project animals.  Make sure your picture is a side view.  If the ear tag is not readable in this side view picture, snap another shot with the ear tag clearly visible.   The photo must show the ear tag hanging in the ear untouched.  You will need no more than two pictures to upload. 
Make sure the pictures you will be uploading are stored on the device or computer which will be used to register your animal for each animal. 
Write down your animal's RFID tag (for beef and feeder) or Scrapie ID (for sheep and goats) that goes along with each GCFFY tag number and have this accessible when registering online. 
Click on the above link when ready and click the link for the correct animal.  Since the Internet never sleeps, the forms will be due by 11:59 p.m. on the official due date.  Applications submitted after that due date will require a $10 per business day registration fee.
Follow the links and upload the photographs when prompted to upload them. 
After you submit your registration, a confirmation screen will come up and an email will be sent to the email address provided.  Keep these as the official confirmation of the registration.  If you have any problems with the registration from the fair, you will need to present this to guarantee your registration. 
The pilot of this process went smoothly and could be done simply on a phone as well as a laptop.  The fair encourages patience as we unroll this process.  If for some unforeseen reason there is a hiccup in the registration on the fair's end, accommodations may be made.