Fair Awards 2018 Appreciation Awards
Gratiot County Fair for Youth awards a personal and business Appreciation Award annually during its opening ceremony.  This year the fair awarded the personal award to the Cary Family.  The Cary's have been involved at this fair since its inception in 1950.  Four generations of the Cary family have given incredible amounts time, talent and resources to mold this fair into what the fair is today.  The current generation of the Cary family continue in the large footsteps left by "grandpa" Charlie Cary.  Today Charlie's wife, Neoma, and their family, Scott and Wendy, Matt, Jake and Shelley, Stacey and Todd, Landen, Madelyn, Dillon (Denman), Hayley and Ben all contribute in the amazing Cary tradition of helping the fair. 
The Business Award was awarded to MJC Electric, LLC.  Matt Campbell who owns and operates MJC Electric donated his time to help and resources to accomplish a large electrical project at the fairgrounds.
We Want Your Input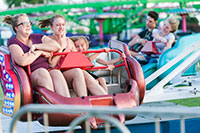 Do you have a great idea to share to help GCFFY improve?  Do you want to tell us what your favorite part of the fair was in 2018?  GCFFY wants your input.  Survey results often bring about positive change and improvements on future fair events. All survey responses are discussed.  Take a couple minutes to let us know how we are doing.  Click here to complete this quick survey.
GCFFY is Updating its Address
GCFFY will be closing its post office box later this fall.    Please update your files (including your financial software) so your mail will get to the fairgrounds without delay.  The address will now be:

701 S. Lincoln Ave.
Alma, MI 48801

Our phone number and email will remain the same at (989) 466-5071 and info@gcffy.org.
---
Download GCFFY Pictures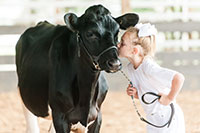 Captured by Christine Crumbaugh has some amazing photographs from the 2018 fair.  Many of them she posted are already on our fair's Facebook account.  There are many more on her website which were not on Facebook.  Chris has been sharing her gift of photography for the last few years and this year's pictures are nothing less than exceptional.  If you like one of them, you can download the full resolution file for $5 by clicking here.  Chris donates all of the money to GCFFY. A HUGE thank you for Chris for all she does to save so many memories and moments from the best week of the year.


Gratiot County Fair for Youth Plans Annual Membership Meeting
Join us at 6:30 p.m., Thursday, December 6 for the fair's Annual Membership Meeting at the Bill & Grace Vanderbeek Fair Office.  Our fair's by-laws set up the fair to have fair members elect the fair's Board of Directors at the Annual Membership Meeting as well as approve any by-law changes.  Fair supporters can become a lifetime fair member for just $5 and memberships are available at the fair office.  At the meeting, the fair's Board will present the fair's annual report of highlights, the membership will elect four members for three year terms to the fair's Board of Directors and a new Teen Representative will be appointed for a two year term.

Any fair member interested in running for one of the four 3-year terms on the fair's Board of Directors should complete a petition. Petitions are due at the fair office by Friday,November 23 so they can be included on the ballot, have a biography in the meeting packet and their name listed on the official ballot. Petitions can be downloaded by clicking here.

Each year the fair's Board appoints one teen to the fair's Board of Directors. The fair selects the representative  based on the candidate's leadership ability and ability to participate at the fair's board meetings.  Selected teens serve a two year term on the fair's board.  Applications and more information are available by clicking here.
Come Grow With Us Campaign
Gratiot County Fair for Youth is constructing a new 64' x 112' multipurpose livestock facility.  This new barn will replace the fair's old beef barns and provide additional capacity to house livestock animals during fair.  As part of this campaign, the fair has already secured funding and has purchased new livestock pens and a scale.  Additionally the building will be constructed tall enough to support storage of large camping units over the winter.

While the fair is well on its way to successfully funding this project from grants and philanthropic support, the fair still needs your help to complete the project's funding equation.  Various sizes and types of gifts are needed to complete the fundraising plan.  There are numerous naming opportunities and all gifts will be permanently recognized.

Gifts may be made in installments; however, we are asking donors to complete their gifts by October 31, 2018.  As GCFFY is a 501(c)(3) public charity, your gift may be tax deductible.  Click here for more information and to support this campaign.
New College Students Use GCFFY Memorial Scholarship to Offset Costs
Last spring, Chloe Brittain and Dylan Macha were awarded a scholarship from the Gratiot County Community Foundation's GCFFY Memorial Scholarship Endowed Fund.  With these two recipients, this fund has now awarded ten scholarships since its inception in 2013.  Recipients are awarded based on their long term diverse participation at the fair, commitment to community service and their leadership experiences.  Anyone interested in applying for a scholarship next winter can find information at www.gratiotfoundation.org.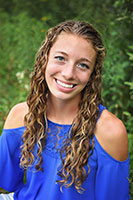 Chloe Brittain is in her first semester at Trine University in Angola, Indiana where she is taking classes as well as running on their cross country team.  Chloe has participated in numerous project areas at the fair and is a long-time member of the Circle B 4-H Club.  She has participated in the Gratiot County 4-H Teen Exchange Club.  The last two years Chloe has coordinated the Science Expo for the fair.  In this role, Chloe arranged the presenters who up an interactive science based table and worked with the fair to manage the logistics of having this event during the busy week.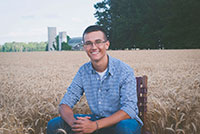 Dylan Macha has participated in the fair and 4-H long before he was old enough to start as a Clover Climber (which is now called Cloverbud).  Dylan has participated in a wide variety of both still exhibit and animal project areas.  Younger exhibitors look up to Dylan, and he is always willing to help these exhibitors learn more about the fair.  Dylan has participated in two rotations of the Gratiot County 4-H Teen Exchange Club and as a member of the Double C 4-H Club.  Dylan is furthering his education at Alma College where he is a recipient of their Community Engagement Scholarship.
Record Books Updating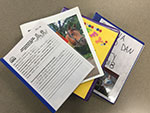 It has been a while since the GCFFY large livestock record books have been updated.  The fair board has set up a committee of committed people to review and revise our beef, dairy, feeder, sheep and swine books.  The committee's goal is to have the books completed and uploaded by early 2019.  The fair considers record books one of the most important projects at the fair and will continue to provide a high quality award for the winners.  If your project starts before this time, you can plan on the book asking for cost records and beginning project photographs.
Sale Information
The Gratiot County community stepped up again to support GCFFY exhibitors at the fair's livestock and still exhibit sales during the fair.  This year buyers spent $451,130 on exhibitors' project animals in the Livestock Sale and $114,525 at the fair's Still Exhibit Sale.  This year the fair sold 58,752 pounds of feeders, 49,849 pounds of beef, 29,686 pounds of swine, 9,813 bounds of sheep and 1,805 pounds of goats. 

Sale checks have been cut for all exhibitors; however, only checks for youth whose buyers have paid have been mailed.  As the remaining buyers pay for their animals, those exhibitors' checks will be released.


Every year the fair fills its empty livestock and exhibit barn with trailers, motor homes, cars, lawn mowers, golf carts and anything else people want to protect from a harsh Michigan winter.  The fair offered space to our 2017-18 individuals first and will soon open up our available spots for storage.  Our Swine Barn and Feeder Barn fill up quickly since they can store large and tall campers and motorhomes.  For items which can fit under a ten foot door, GCFFY will have space available this year.  Also new this year, GCFFY will be storing items in our fair's Covered Arena at a reduced cost since this building has open sides.  For more information, prices and a reservation form click here.

Off Season Hours
Gratiot County Fair for Youth operates out of the Bill & Grace Vanderbeek Fair Office on the Alma Fairgrounds.  The office will be closed on Tuesdays until we gear back up for the busy fair season.  There are also other unplanned times throughout the week where Brian will be out running errands or meeting with stakeholders.  It is advisable to call ahead if you are planning on coming over to the fair office.  You can reach GCFFY at 989-466-5071 or by emailing Brian at bgardner@gcffy.org.  
Fairgrounds Usage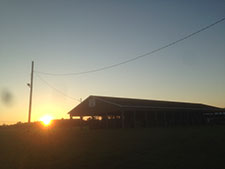 On the south side of Alma sits a beautiful facility which might be the perfect location to host your next event.  GCFFY's fairgrounds is the perfect location for a company retreat or picnic, a peaceful meeting, a family reunion or of course an animal event.  GCFFY has covered picnic areas; an all-weather, technology equipped conference room large barns and arenas.  Our online calendar has all of our events listed at www.gcffy.org found by clicking on Upcoming Events tab.  If you would like to see how GCFFY could serve your needs, contact Brian Gardner at the fair office at 989.466.5071 or bgardner@gcffy.org. 

Any 4-H club or FFA chapter who is looking for a meeting location or a place to hold your next club event is encouraged to consider the fairgrounds.  The cost for 4-H and FFA groups is often waived depending on the scope of the event and the amount of work it will take fair staff to clean-up after the event.  
Find us on Facebook

The Gratiot County Fair for Youth and the Gratiot County 4-H Programs both have active Facebook accounts.  These accounts are used to provide you with current information about their respective programs.  Everyone wants to be liked so please "like" them and make sure you are receiving current information.
If you have "liked" us on Facebook and we do not show up on your feed, go to our page and like a post or two or make a comment.  Active participation on a page will ensure you are receiving the information we are distributing.

The Gratiot County Fair for Youth's Facebook page is https://www.facebook.com/gcffy and the Gratiot County 4-H page is https://www.facebook.com/GratiotCounty4H.